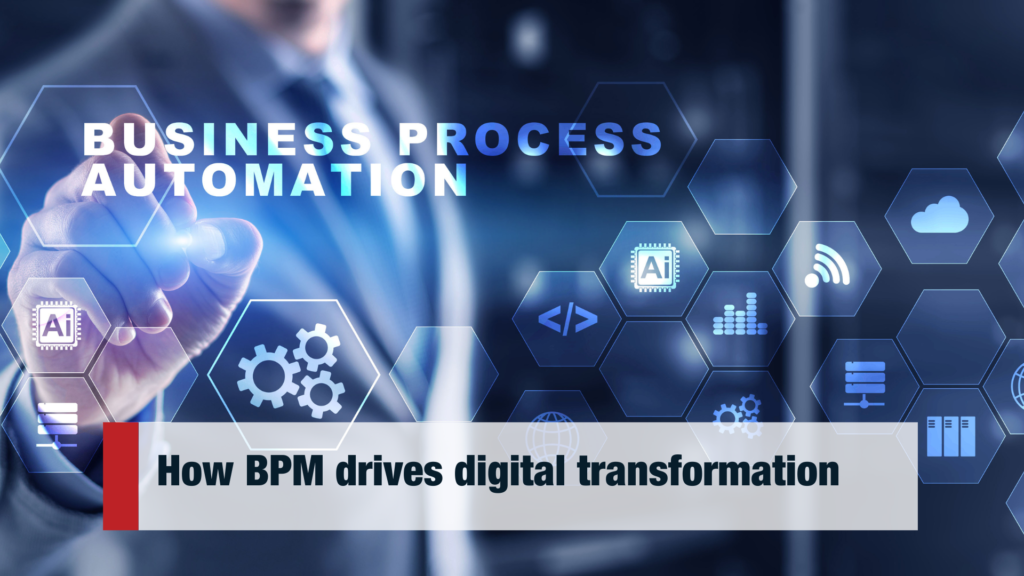 It does not come as a surprise that business process management is a field of research that has been the focus of researchers for numerous years since business processes play a pivotal role within every organization. As technology evolves, organizations in all industries face an even more competitive market. The digital business process is the binder between the strategic concept and the technology. Business Process Management (BPM) technology leverages computers and rule-based engines to give executives an overall view of how their processes are functioning. BPM's aim is to optimize and automate business processes from start to end, by focusing on their strategic purpose and target outcome to reshape how people, systems, and data interact.
Planning business processes flexibly and agilely is the central prerequisite for a successful digital transformation. One starting point any enterprise could take for fast digitization and optimization of business processes is Business Process Management. In this article, we will take a further look into what digital transformation means, what are the main steps to efficiently automate your business processes and how will an automated Business Process Management technology benefit you.  
What is digital transformation? 
Digital transformation refers to an innovation process that happens both through technology and through a change in thoughts and the company's culture. In other words, digitalization is the adaptation of a company's work philosophy to meet the cultural, logical, personnel, and technological needs of an evolving landscape. It not only leads to a hyper-connected, fast-moving, and highly competitive environment, but it also affects work processes at the operational level. 
One thing to remember is that digital transformation is a multi-step journey that requires cross-cutting organizational change which focuses on employees, customers, and internal business processes. Before making any decision regarding the implementation of digital transformations, take your time to understand the implications and challenges of process automation. Don't hesitate to book a meeting with our consulting team to find the right solutions for your needs.
How to strategically automate your Business Process
The biggest concern for directors, CIOs, CEOs, and other C-level executives is how to efficiently implement management practices and process automation in order to create a more effective and dynamic environment when adapting to new business requirements. In this context,  BPM is an essential component of digital transformation. What are some strategic ways to start automating business processes?
Firstly, you should prioritize areas to automate. Think about operational improvements and the impact on customers. Base these areas of opportunity to improve on a scorecard evaluating the impact on customers, employees and the business.   
Once you know where will you benefit most from automating the business processes, the next step is identifying repetitive tasks. It may be of help to review the standard operating procedures (SOPs) that document the exact steps necessary to carry out and complete the responsibilities within a role. 
Benefits of Digital Business Process Management
1. Reduce risks 
Given the changing business environment, companies are prone to organizational errors that may affect their efficiency. Continually improved to adapt to changing organizational conditions, modern Business Processes can deliver the expected results. Similar to Robotic Process Automation – RPA, BPM eliminates errors and reduces costs. By streamlining, automating, and improving processes risks are reduced, processes are more transparent and you can ensure that you meet all quality and regulatory standards expected of your business.
2. Save time and increase productivity
In every department, there are many repetitive, tedious, time-consuming tasks that need to be completed. BPM standardizes processes so employees can work more effectively within a set framework that speeds decision-making and reduces the risk of human error. Moreover, employees will be able to focus on the core, valuable, aspects of their job.  
3. Enhance compliance and security
In any industry, department or process, there is always something you should be paying more attention to and some data you should utilize more. Data management is important. When you have a myriad of complex processes executed with complex tools, you are bound to miss a guideline or two. BPM ensures every function successfully complies with their respective policies. 
Having a systematic holistic approach allows you to have a better overview of the processes at your organization and a digitalized and digitized Bussiness Process Management software it's an important piece of the puzzle for any company that wants to be successful in today's digital economy. Keep in mind that you can always turn to a consultancy company, that could guide you through the process of the setup and maintenance of custom software that will be better tailored to your organization's needs.