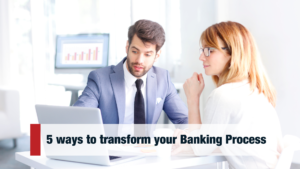 As numerous businesses, banking is to change in the coming decade. After all, financial services is a fast-moving industry, and it implemented significant various technological advances like mobile banking apps that have significantly streamlined your customers' experience. As customer preferences change, new technologies are currently evolving and new competition is out every day, the traditional person-to-person business model is morphing toward a digital and technology-based banking process. 
To remain competitive in the modern business environment, banks everywhere need to reassess their processes and ensure that the entire system works like a well-oiled machine. Becoming more efficient is an important strategic objective for banks in order to address the market challenges and include lean tools such as robotics and process automation. 
In our experience, many of Connection sConsult's clients have achieved significant and successful efficiency improvements in the banking operating process following these 5 strategies. 
Process Analysis & Optimization
Banks have embraced IT services, therefore, there is an increased sophistication of front and back-office banking operations. Banking Process Management – BPM – has garnered the interest of the banking and financial industry over the past decade.
When it comes to prioritizing process analysis and optimization, one challenge is that most core banking processes are cross-functional, and each team member manages their singular nice. No one is managing the entire banking process. ​​Automating banking and financial services are now key business requirements in order to achieve clarity on your strategic direction, alignment with the organization's resources, and increased discipline in daily operations. 
This may seem a bit overwhelming, especially when your business is only beginning its digital transformation. Keep in mind that you can always consider turning to a consulting company service that offers a variety of services regarding automation implementation.
Increase Team Efficiency 
Productivity and efficiency go hand in hand in many industries and the banking segment is no exception. Unfortunately,  83% of working professionals say their organizations have two or more redundant applications for the same function. Therefore, being busy does not always mean being productive. How can you get rid of the routine and repetitive work that's still important, but isn't where your employees really accomplish something meaningful?
Automation tools are one popular and best-rated solution to help improve staff productivity. Robotic Process Automation (RPA), to be exact, enables banks to handle more transactions and greater volumes of activity with the same number of personnel. RPA robots can mimic virtually any actions that human users perform. However, productivity improvement is not dependent on technology alone. Some of the foremost significant opportunities involve using established performance management techniques, such as clearly defined expectations and scorecards, improved motivation and rewards systems, and better training and supervision. 
Channel Optimization 
Through channel optimization, every organization assesses the various ways customers interact with a bank in order to create a cost-effective combination that is adapted to each bank's specific customer base. To achieve this goal, banks need to adopt other channels like Internet Banking, Mobile Banking, Kiosks, Customer Service Points, etc, to attract the present generation and to provide enhanced service to the existing clients. Keep in mind that channel optimization should not be about branches alone, but working to enhance banking processes via better operating hours and technical knowledge, as well as their chat, text, and social media capabilities.
Eliminate Manual Tasks & Redundant Data
Eighty-two per cent of banks and credit unions are still using manual processes that are undeniably too slow for the modern market. Start by eliminating manual tasks and redundant data with automated workflows. This will drastically increase employee productivity and efficiency while reducing the number of errors. We mentioned technology and banking process automation several times already, but because of its broad, enterprisewide impact, the use of technology and automation also merit individual attention as part of the overall efficiency improvement effort.
Business process automation may be implemented in many banking branches such as digitizing account opening for checking accounts, savings accounts, or loan applications, but also internal communication among different departments. Automated workflow processing gives managers greater visibility into the activities being performed and plays an important role in a bank's channel optimization efforts.
Digital Onboarding process
Proper onboarding of customers is essential to establish trust and create an opportune moment for cross-selling.  More than half of consumers fail to finish their onboarding process for a number of reasons. The ever-changing regulations, multiple touchpoints, and extensive paperwork add to their perplexity. Using digital IDs and completely digitizing the onboarding process makes it much easier and more cost-effective for financial service providers to approach underserved customers, centralize documentation and offer a hassle-free onboarding experience.
To conclude, looking beyond these 5 ways to implement an overall digital transformation for your banking process, one most important take-out is to recognize the value of automating your business process in the banking industry. If you are looking for further operational efficiencies in banking, Connections Consult might be the perfect solution for you. We blend Software Development and Process Automation to leverage the original trifecta – People, Process, Technology to the triple-A one: Automation, Artificial Intelligence and Analytics. Schedule a meeting with us, and let's improve efficiency in the workplace together.