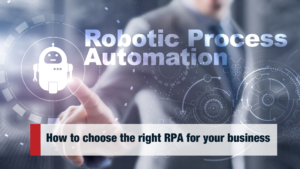 Today's market is rapidly evolving, and automation is one of the most influential factors considering its applicability in a wide range of sectors, functions, and processes. But even though the technology is now woven into the fabric of work, there's a tremendous opportunity to automate routine and repetitive tasks. This is what Robotic Process Automation concept relies on – automating repetitive, rule-based, labor-intensive processes, reducing the dependency on manual labor, and increasing business efficiency and accuracy. The RPA bots implementation has tremendous potential to eliminate drudgery—in data entry, billing, order management, HR onboarding, and endless other areas.
Of course, there is no surprise that RPA technology is also evolving daily with added features and functionalities. Gartner reported that RPA software is the fastest-growing global enterprise software market segment. RPA is expected to eclipse cloud, IoT, and blockchain, receiving the most significant investment focus for enterprise buyers looking to achieve operational effectiveness. 
How do you choose the right RPA platform for your business needs? Our Robotic Process Automation implementation experts from Connections Consult, an innovative European group of companies with more than 17 years of experience, provide the necessary guidelines for choosing the right RPA tool.
Architecture
A well-designed RPA tool has huge implications for any company. The architecture of the Robotic Automation tool depends on where you want to employ this technology and how well it can be adapted for performing various tasks. Depending on the purpose of your tool, before choosing an appropriate RPA tool, you should make sure you have the right skills and expertise to use it, as well as knowledge regarding where it should not be used.
Most RPA tools rely on a layered design for better deployment and maintenance, which is another important factor to keep in mind while selecting the right RPA tool.
Ease of RPA implementation
One of the best features of Robotic Process Automation technology is its ease of implementation, non-invasiveness, and compatibility with existing legacy systems. Business users should be able to point and click the applications they normally use while a recorder notes the actions. Remember you want to improve the speed and efficiency of your business processes, which is why you are looking to deploy an RPA tool. Fortunately, 70% of organizations say that RPA releases employees from mundane tasks, help them focus on more strategic and creative tasks, and increases efficiency by 80%. 
Exception handling
Categorical machine learning models typically estimate the probabilities of the possible results. A robust Robotic Automation tool that is well-designed and will detect errors during automation more quickly than manual detection. In some cases, errors require human attention and must be directed toward experts. An efficient exception-handling capability ensures that workplace automation operates smoothly and seamlessly.
RPA integration with enterprise applications
A bot isn't good for your company if it can't get information out of your enterprise applications. That's usually easier than parsing PDFs, but you need drivers, plug-ins, and credentials for all your databases, accounting systems, HR systems, and other enterprise applications. 
Connections Consult is an official UiPath partner company that trains software robots using RPA technology on the UiPath platform. We blend Software Development and Process Automation to leverage the original trifecta – People, Process, and Technology to the triple-A one: Automation, Artificial Intelligence, and Analytics. We design, architect, integrate, and deliver digital business solutions for various industries. We use rapid prototyping and design thinking to deliver innovative solutions. 
Support 
It's always good to choose reliable providers and ensure that you are provided with a good support system. Different RPA vendors offer different kinds of support. You will want to check if the vendor provides part-time, contractual, or a dedicated round-the-clock support team and what kind of training or certification is required related to the functioning of the RPA tool. Best practices ensure strong maintenance procedures, so you must ensure access to these too.
Remember that each RPA tool has a specific purpose and doesn't follow the size fit approach. Each tool has a specific purpose, and to evaluate the full potential of an RPA tool, you will need to prioritize one or more criteria over the others and choose the one which closely matches your requirements. If you are looking to gain further insights, schedule a meeting with one of our experts, and find the RPA solution for your needs.