During technological excitement, we celebrate two years since we entered the stage of the Bucharest Stock Exchange and entered a phase of business maturity, following years of construction and skills training. We look back with joy and pride at our beginnings when we started with an ambitious vision: to bring digital technology closer to as many people as possible. I invite you on a brief journey together through our past, present, and future.
Navigating through transformation
In 2005, we laid the foundations for Connections, firmly believing that we could make significant changes in the IT landscape in Romania and beyond its borders. We underwent a continuous development process, and in our 18 years of existence, we built our own products and expanded our service portfolio to include intelligent automation, IT infrastructure support, digital process management capabilities, and customized software development. In 2010, we took our first steps towards international expansion, establishing a strong presence not only in Romania but also in the markets of Bulgaria and Serbia, with sales offices in the United States, the United Kingdom, and Germany. We became a Gold Partner of UiPath and an Aurachain Partner to enhance our capacity to deliver complex digital transformation projects. We evolved by gaining significant clients, and the main sectors in which the company operates include FMCG, Finance, Manufacturing, Health, Logistics and Distribution, and the public sector. Thus, we contribute to the development of the digital economy through various types of projects, both private and public, ensuring a balanced business outlook for today and the years to come.
Listing on the Stock Exchange – a significant moment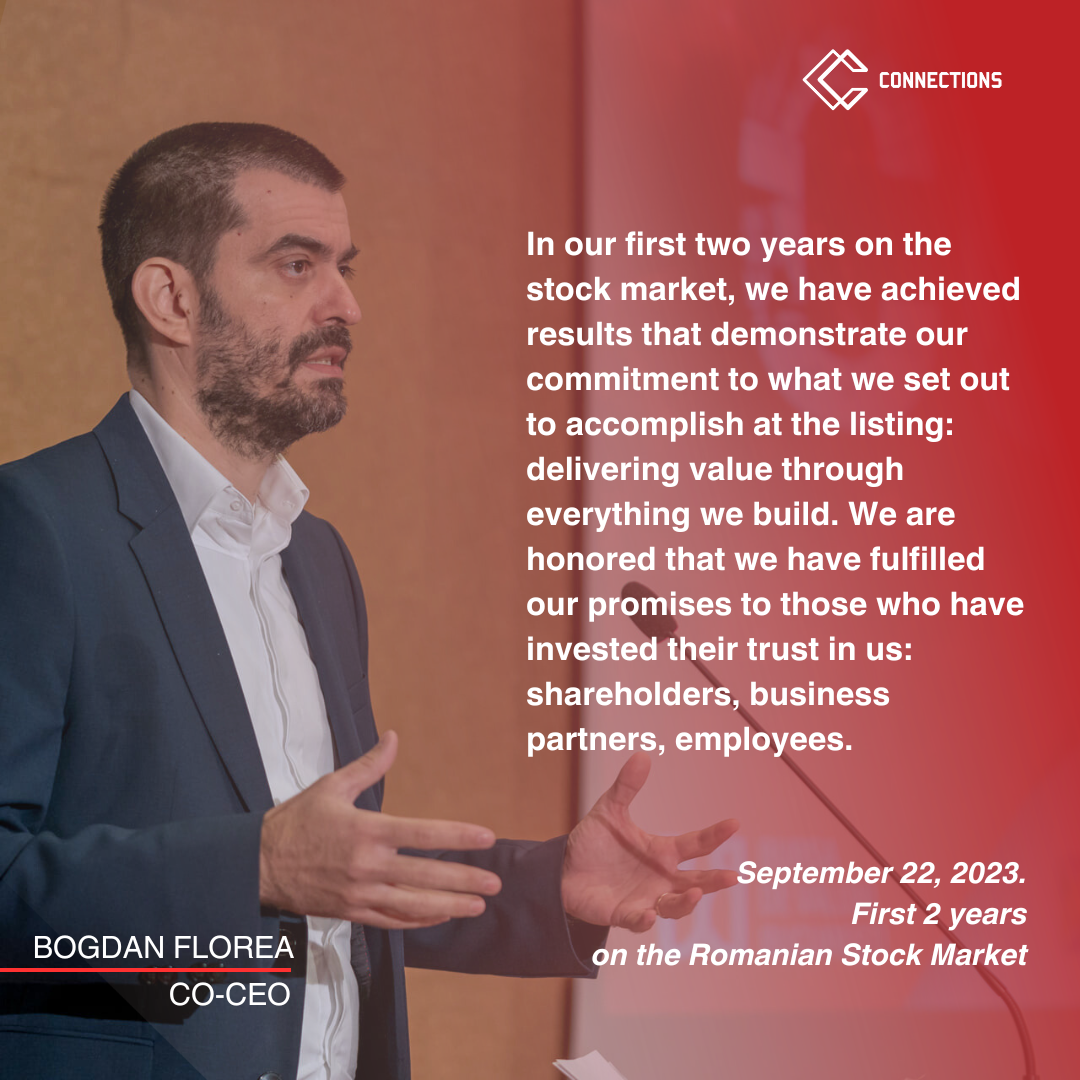 A significant moment in our history was our listing on the Bucharest Stock Exchange (BVB) in September 2021 under the symbol CC. This move represented not only a recognition of Connections' performance and potential but also a strong commitment to transparency and continuous development. In March 2022, shortly after listing, Connections became part of the BET AeRO index. We expanded our team of specialists by 30%, and the number of our shareholders doubled from the time of listing, reaching over 400 at present.
In the first two years since our debut on the capital market under the CC symbol, our teams have proven that technology has the power to simplify the daily lives of people and companies, wherever we are and whenever we want to connect with processes, colleagues, and organizations.
The company's financial performance has been a consistent factor in our journey, with solid results. Recent reports for the first half of the year show a turnover of 40.9 million lei, with revenues up 62% compared to the same period in 2022. We estimate that we will close the year with revenues exceeding 100 million lei. Net profit for the first half of 2023 recorded a 273% increase, reaching 3.6 million lei.
We entered the AeRO market with confidence and determination, and from an ambitious startup dreaming of bringing innovation to the IT landscape, we have become a presence with increased leadership and relevance in the industry. Today, at Connections' "coming of age," we have spent the first 2 years on the stock exchange, quickly becoming part of the BET AeRO index, which has facilitated our access to increasingly complex projects, accelerated our financial results, and achieved a higher employee retention rate than the IT industry average.
Our journey so far represents a great deal of growth effort, but the direction is clear for the future: we remain true to the promise of creating value for our shareholders and contributing significantly to the digital transformation of Romania and the markets in which our teams operate.
We appreciate the confidence with which you invest in #ConnectionsTeam!