If you think that "Digital Transformation" is just a trendy buzzword, it is probably safe to assume that your business is lagging behind. In today's competitive digital age, if you are not implementing the latest technology to increase efficiency, streamline business processes, and improve the customer experience, your company will lack the competitive edge necessary to stand out from the crowd.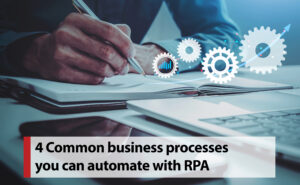 A key component of digital transformation is the implementation of Robotic Process Automation (RPA) to automate those repetitive, tedious, time-consuming activities that require little creativity or deep thinking from employees. 
In order for the digital transformation of your business process with RPA to be successful, your business needs to identify the right processes to automate. These should ideally be a series of interrelated activities and tasks, performed in a specific order, following a set of rules and a fixed structure. Their implementation serves a particular purpose and is intended to produce a specific outcome.
To give an indication of the types of activities that can benefit from RPA implementation, we take a look at four (of the many) common business processes that can easily be automated with RPA.
1. Speed up Procure to Pay
Many businesses need to have a Procure to Pay (or P2P) process in place in order to purchase goods and services from suppliers. This process typically includes requesting quotes, creation of purchase orders, goods receipts, and invoice creation, and all of this before payment can even take place. As time-consuming and tedious as this process can be, this cycle needs to run efficiently and systematically if the business is to continuously manage its cash flow, build goodwill with suppliers, develop profitable relationships and generate revenue.
RPA software technology is ideally suited to automate the P2P process, reducing operational costs and increasing efficiency. Adopting this technology not only frees up the procurement team to focus more of its efforts on high-value-added activities, but also enables the accounts payable department to be more productive and cost-effective. 
2. Dealing with Sensitive Data
Working with sensitive data associated with payroll, benefits, and business travel is another time-consuming exercise that requires high levels of concentration and accuracy as well as confidentiality. 
RPA robots can input this data, check for accuracy, and process payments in less time than a human, with better accuracy and without the risk of errors. As this sensitive data is no longer being seen by multiple employees, the chance of leaked information means higher confidentiality and improved compliance.
3. Interacting with Multiple Systems
Businesses often have multiple systems that deal with the same data but for different purposes. Transferring and cross-checking data between different platforms, such as ERP and CRM systems, is tedious, time-consuming, and often costly, as it takes additional manpower.
Software robots easily integrate with any system, platform, or application, allowing for the complete automation of data collection to processing, transfer, compliance verification, updating, and archiving. Processes that once took an employee hours to complete now takes minutes, significantly cutting costs and increasing productivity and efficiency.
4. Invoicing Made Easy
Companies that interact with multiple customers or partners often have to deal with invoices in a variety of different formats, such as paper, email, Excel, PDF, etc. Manually transferring this critical data into one harmonized system or database for processing is both time-consuming and dull, and is prone to human error. 
Not only can a well-programmed RPA robot automatically process invoices received in any format, but it can also verify the data, enter it into the appropriate database, and even correct errors. What's more, the robot can automatically generate invoices at greater speeds meaning faster turn-around times, reduced call-handling times, and a significant improvement in customer experience.
Are you excited to kick-start your business automation journey, but not sure where to start? CLICK HERE to access our free tool to discover whether your business processes are RPA-ready, and get ready to take the first step towards true digital transformation.